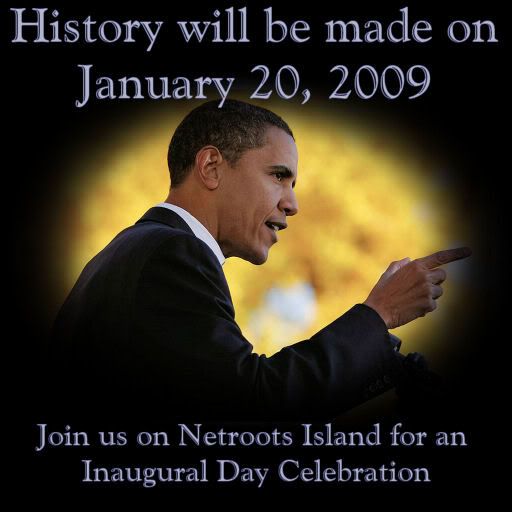 It's the dawning of a new day and we're throwing a party!
Netroots Nation in Second Life is celebrating the historic inauguration of Barak Obama.  Join us on Netroots Island as we mark this historic event in American history, honor those  who helped make it happen, and celebrate the victory of hope.
Schedule of Events - all times listed are PST/SLT
8 am - 1pm: Live streaming of Inaugural events
Netroots Main Arena -
SLURL
Netroots Annex Arena -
SLURL
1pm - 6 pm: Live music from some of Second Life's best performers
Netroots Main Ballroom - 
SLURL
6pm - late: party at any of 3 inaugural balls on the Netroots islands
Red, White, and Blue Formal Ball -
SLURL
Americana Ball - Blues, Americana, Country music -
SLURL
USA Rave - Techno, hip-hop, 80s
In addition to the streaming and music, we will have art displays and information about President-elect Obama throughout Netroots Islands.
updates:
http://www.nninsl.org/